Meet Pasadena Optometrist, Dr. Vic Kimball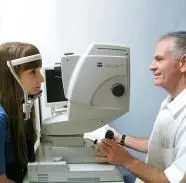 As a licensed optometrist, Dr. Vic Kimball provides exams, diagnoses, and treatments of all disorders that affect the eye or vision. Dr. Kimball is trained to recognize a range of eye health issues; such as glaucoma, macular degeneration, diabetes, and hypertension.
Dr. Vic Kimball graduated from Sam Houston State University in 1973 with a Bachelor in Business Administration. He then went on to serve 3 years in the United States Army before attending University of Houston College of Optometry. Dr. Vic Kimball is a member of the American Optometry Association and the Texas Optometric Association. Dr. Kimball has been in practice for over 40 years.
Dr. Vic Kimball works hard to stay current on the latest advances in eye health and vision care by attending continuing education seminars and advanced training courses. It is because of Dr. Vic Kimball dedication to continuing education that our Pasadena patients receive the most modern and progressive vision care available.